We currently have the following Belties available for purchase:
Double Creek Cloud – Reg. # A9508-B, M1 – DOB 10/29/04
Sire – Quail Ridge Farm Jabez (Green Arpents Boris x Saddlewood's Bernice)
Dam – Tidwell's Kelly (Dawson's Fingal Fanfare x Ademia Kate)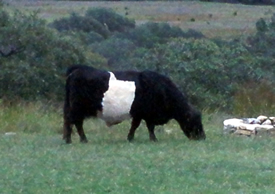 Large gentle cow that throws great calves. She is a wonderful mother with lots of milk. We have kept some of her babies for our herd. She only has a belt on one side. She has only thrown one calf without a full belt in her 10 years of production. She is currently bred to Wayside Valley River Moon for a fall 2017 calf.
WAYSIDE VALLEY RIVER MOON – Reg. # 35472-B – DOB 11/2/2012
Sire – MCF Supreme 415W (Driftwood Supreme 60S x Mile Creek Charlotte)
Dam – Wayside Valley Blue Moon (ISF Champion x Circle R Carlotta)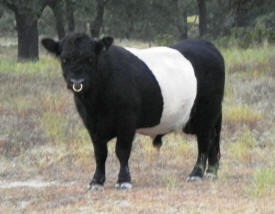 Black/white bull who consistently sires well conformed, well marked calves. He has a calm, easy going disposition and is easy to handle.
We are expecting more calves throughout the year. Pleases check back with us.